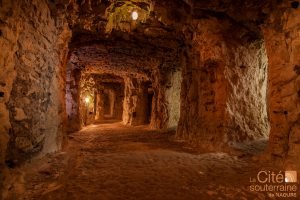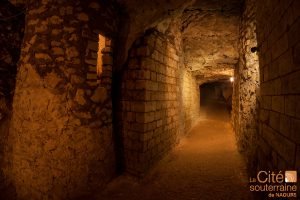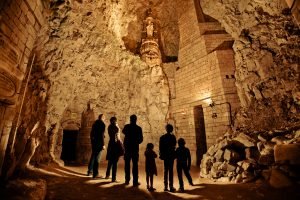 The underground city of Naours
For centuries, Picardy has known numerous wars and invasions. The chalk mines were used as shelters for the inhabitants and their property and then became underground hiding places, they are known as "muches" or hiding places in the Picard language.
The Underground City was dug by hand. At its peak, there were 28 galleries and 300 rooms. It was occupied from the Middle Ages until the 17th century, the underground passages fell into disuse until they were rediscovered by Abbott Danicourt in 1887.
The Underground City has lived through time and shares its history with you.
The visit consists of a tour of the Underground City, the Museum of Ancient Trades and the new interpretation centre "The travelling soldiers ".
progress of the visit
Audio-guided or guided tour of the underground

Ancient crafts musuem

The silent soldiers interpretation centre
For guided tour hours, contact us.
precautions
Temperature 9°C: Bring warm clothing.
Low lighting, please take a torch.
audio-guide language
French, English, German and Dutch
animals
Small dogs can visit in a transport bag.
Accessibility
The underground visit includes many steps and is not suitable for wheelchairs and pushchairs.