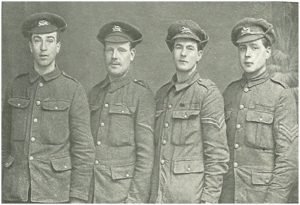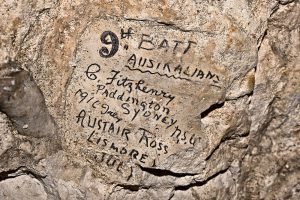 The Underground City became a very popular local curiosity after its rediscovery, especially during the First World War. Many Allied soldiers visited the site when they were back from the front lines and many wrote their names on the walls of the undergrounds.
These were discovered in 2014 thanks to the research of archaeologist Gilles Prilaux.  No less than 3,200 graffiti have been catalogued, making this the largest known concentration of Great War graffiti.
Archaeological research has helped identify these graffiti and associate names, faces and sometimes even descendants.
The Museum/Interpretation Center offers visitors an unusual experience through the stories of soldiers, who came in thousands to visit the underground city. Their stories are as fascinating as moving, and they offer a unique testimony of the Great War. An opportunity to discover the faces that are hidden behind these fragile traces written with simple pencils on limestone rocks over a century ago.
guided tour
Dedicated to the Great War graffiti.
Only available by reservation +33 (0)3 22 93 71 78.
Minimum group of 10 people required.
research
If you are researching a soldier and want to know if he wrote his name on the walls of the Underground City, go to:
SBP NETWORK
The Underground City became a member of the Somme Battlefield's Partner network in 2015.